Since the COVID-19 pandemic the world as we know it has changed significantly. Things as normal as going to shop, connecting with friends & family or going to see a doctor are now considered questionable. This change has disturbed everyone, but especially the elderly population; who have always been a vulnerable and isolated segment of our society. And so, it is more important than ever to provide access to healthcare and support for the senior citizens so they can live their life with dignity. You can now book a tele-appointment with an online doctor for your loved ones. Top 7 Benefits of virtual care for Elderly Patients
Old age is a part of life which cannot be avoided, but we can learn to deal with and manage the conditions and complications that arise with it for our loved ones. Some of the most common health conditions that the elderly can suffer from are;
Memory loss and disorientation; from Dementia and Alzheimer's
Mobility issues; associated with weakness and pain in limbs.
Gastrointestinal problems; problems with digestion
Dental problems; loss of teeth
And many more..
How can you provide the best elderly care at home?
Although getting healthcare services has been challenging for everyone, it is imperative that senior citizens or the elderly continue to receive the care they need. And even more so, if they suffer from a chronic condition that requires regular monitoring or check-ups.
Telehealth has been around for quite a while, but gained popularity in the last two years for senior care. Telehealth can make elderly care more accessible and manageable at home. It provides a platform for you to book an online appointment with an expert doctor, for consultation and remote monitoring. Here are some tips for you to manage elderly care:
Periodic consultations with a doctor:
You should always carry details regarding medical history and current medication, with the elderly patient as well as the caregiver. Help your elderly loved one in understanding their ailment and their medications, along with the necessary lifestyle changes. 
Exercise and healthy diet:
Encourage physical activity, whether it's a morning/evening stroll or physiotherapy. It will not only help your loved one feel fresh and active, but will also help improve their overall wellbeing. Assistive walks and exercise can also be a good bonding time. It is also essential to pay attention to their diet. A healthy, balanced diet, with consideration to any restrictions by the doctor.
Elder Proof Your Home :
Safety and medical tools, such as fire alarms, grab bars around the house, blood pressure monitor, glucose level readers, oxygen saturation meters, should always be handy.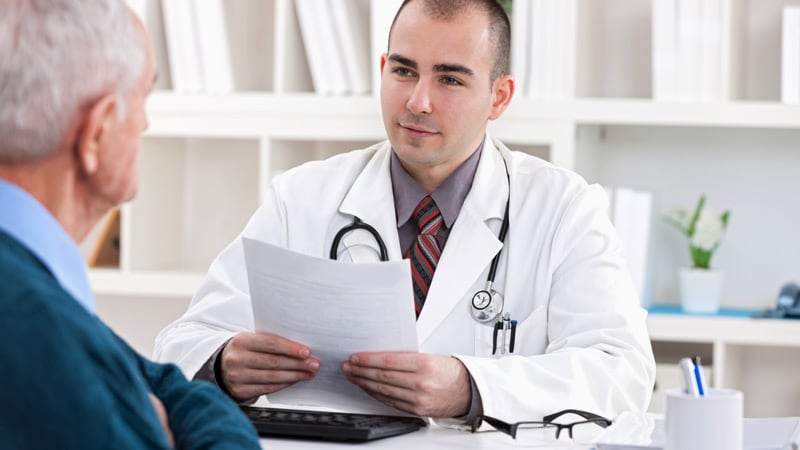 What are the benefits of online consultations for the elderly?
It is never easy to see a loved one go through all the complications that come with ageing. It is important to provide care and assistance for the elderly so that they can live a healthy life with dignity. Although you want to be there you're your loved one's at all times, there are many challenges that one faces, be it tight work hours, financial restraints and/or other commitments. Finding a quality solution that is cost effective and allows for independence and convenience can be difficult for traditional healthcare systems. Well, worry no more. Telehealth brings you, expert doctors from all medical fields, to assist you in health and care management of your elderly loved one, that don't require in-facility visits and the same quality of care, if not better.
Some of the benefits telehealth provides for elderly care are:
Remote Patient Monitoring:
With telehealth you can monitor and report vitals and data using at-home devices such as, blood pressure monitor, Gluco-meters and Oxi-meters etc., for yourself or those in your care. Another feature telehealth provides is Electronic Medical Records (EMR). You can now document all personal and medical information, which can be later accessed by your online physician during consultation. 
Minimal in-person visits:
Due to the pandemic, minimal hospital visits have now become a necessity rather than a preference. Adhering to these social distancing practices ensures the health of your elderly loved one by reducing the risk exposure to different infectious diseases, especially the Coronavirus.  
Reduced medical and traveling costs:
Fewer hospital visits mean no hidden costs such as travel and housing, especially for those patients who are living at a distance from healthcare facilities. Regular check-ups with an online doctor to manage care also significantly reduce emergency admissions and readmissions to the hospitals, preventing a lot of medical costs.  
Improved access to care:
Telehealth increases patient access to a variety of doctors and specialists.Easy and open communication between healthcare providers and the patient is one of the most important pillars of healthcare service. With telehealth access to quality care has never been easier. You can consult expert doctors via online consultations from the comfort of home. This is most important for elderly with mobility issues and those living in rural areas where there is a lack of healthcare facilities. 
Provides support to patients and family members:
Telehealth has eased elderly care with at-home services. You don't have to skip work time after time to provide the best care for your loved one. You can now give them the luxury of healthcare access in the comfort of their home. This not only helps elderly patients but also their families as it reduces their load. 
Improved independence:
With the improvements in quality and accessibility of care, senior citizens can live their daily lives without being dependent on someone to do menial everyday tasks for them. As well as take them for visits and appointments. It improves the overall wellbeing of the elderly patient, hence needing the least amount of assistance. 
Decreased wait time for appointments:
You can seek online consultations for primary as well as follow-up care with telehealth. No need to wait for the next available slot to open up if you are feeling unusual symptoms or elevated vitals. You can book an appointment whenever you require assistance. 
MY LIVE DOCTORS
Brings you an interactive platform which offers greater access to specialists, easy access routine exams, and an open communication channel between providers and patients. It offers constant dedicated virtual care for elderly patients who can suffer from multiple issues. With My Live Doctors, you can monitor vitals every day at home and update them on "Patient Profile". Such as blood pressure, sugar levels, heart rate and oxygen levels. If you notice any irregularity in the readings, you can contact an expert doctor by booking a quick online appointment. 
My Live Doctors expands its services to all elderly populations. Regardless of physical disability or geographical access, all the while not compromising on the quality of care. MLD accommodates around your life and circumstances. 
Book a consultation with an online physician in Pakistan today.