Photos capture all our beautiful memories in one snap. Whenever we see a single snap, numerous memories flood and fill up with different emotions. Considering the importance of photos, we would like to give you an idea about how to recover photos from your old computer if they have been formatted or deleted due to any reason.
Neither can you afford to lose your memories nor would we let you do so. There are many software which help in restoring photos out of which we will provide you with the list of best photo recovery software. Let's get to the list without further ado.
Best Photos Recovery Software
Systweak Photos Recovery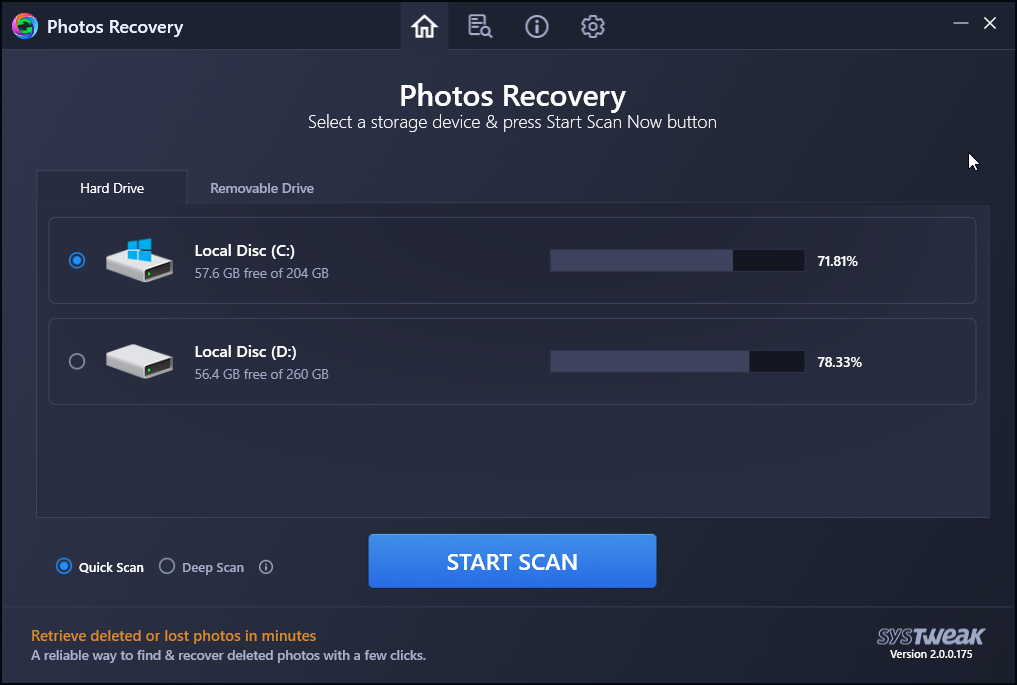 USP: Simple and effective way to restore photos
Whether you want to recover photos from a hard drive or removable media, it is possible to recover photos smoothly in no time. The minimalistic user interface is a charming way to start the process of recovering photos. All you have to do is select the drive, choose the type of scan from Quick Scan and Deep Scan and click 'Start Scan'.
It will instantly provide you with scanning results out of which you can select the photos you wish to recover. Furthermore, if you are an Android user then its Android version also helps you recover photos from your phone.
Stellar Photo Recovery
USP: Having a trust of more than 3 decades
Stellar photo recovery is an amazing tool to recover photos as it allows you to select a specific file type or region to recover specific photos. It is a simple and easy to use software which is also very trustworthy since 1993. Just like Photos Recovery by Systweak, it provides a deep scanning option for better outputs.
Not just basic photos but one can also recover Unicode files using Stellar. Even if you have a camera specific RAW file format, you can get your photos back in a very friendly format.
Advanced Disk Recovery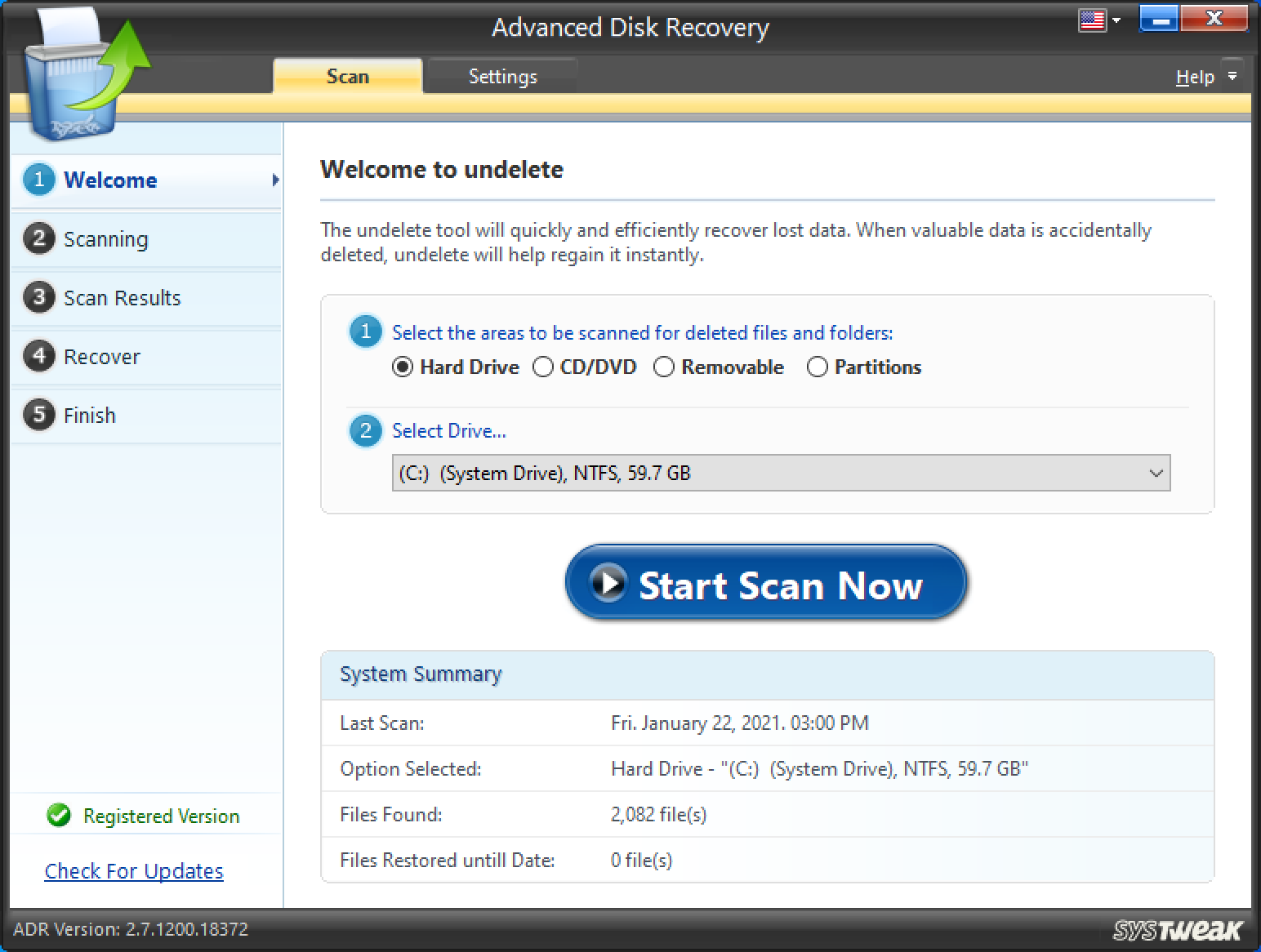 USP: Affordable data recovery solution
A complete recovery solution, Advanced Disk Recovery is a powerful file recovery tool that is capable of recovering pictures very smoothly. It supports both internal and external drives including USB flash drive, CD/DVD, etc. The easy and updated interface gives you a proper idea of scanning, scan results, recovery and much more. A number of settings are also available within the tool to customize everything according to your needs.
EaseUS Data Recovery Wizard Pro
USP: Best for recovering photos from inaccessible portions
How about recovering images from a popular name called EaseUS which is trusted by multiple people around the world? We bet you would like to have a simple and elegant interface. It is also because this tool allows you to recover photos from deleted disk partitions. Moreover, you can even recover pictures from cameras or any similar devices. Although the price may look a little higher to many, the results are pretty impressive.
PC Inspector File Recovery
USP: Free data recovery software in an old school format
One can recover different types of files through this software including photos in all the formats. Although this software has an old school interface and is pretty much intuitive, it can get your job done easily in no time. Supporting a wide variety of formats, it is powerful enough to recover data from lost partitions as well.
It can read FAT16, FAT32, and NTFS files, no matter if the interface looks old school.
Recover My Files
USP: Supports numerous photo formats
Highly supporting all the photo formats like JPEG, TIF, GIF, TIFF, BMP, PNG, WMF and more of them, Recover My Files can restore photos not only from your old computer but also from hard drive, USB, SD card, floppy disk and more. It can even perform the recovery action in the recycle bin, RAW partition and OS reinstatement.
Once again this software looks a bit outdated but you can easily sort out files using date. With that, other conventional storage devices like hard drive, SD card, USB are equally supported. This restoring image software also supports scanning of backup of image files. Undoubtedly, a reliable platform for image recovery.
Recuva
USP: Free software to recover permanently deleted files
Another free software for everyone who wants to recover files which were permanently deleted is right here. Recuva is a highly efficient Windows recovery software which can find out images from Recycle bin, digital camera card, MP3 player and many hidden areas which are not easily accessible to everyone.
The supported graphics include JPG, JPEG, TIF, TIFF, GIF, BMP, PNG, WMF and much more. It is simple to use and has excellent privacy protection features so that tracking files are removed completely. Before recovering the image finally, it gives Preview options on your screen.
Conclusion
We hope that you found how to recover photos from old computers through this blog. Certainly, we do not want you to struggle with lost pictures and this is why all the recovery software in this blog is helpful for you. Which one did you choose and why, share your views with us in the comments below.