Don't you want your home to be love at first sight for your guests? Well, when it comes to the interior or exterior décor, it is all for the cause of pleasing one's eyes. Beni Ourain Rugs here play their card. These thick and densely woven rugs are, no doubt, to bring solace to your feet and beauty to your eyes.
How to Style a Beni Ourain Rug?
Moroccan Beni Ourain rugs can make your interior look stunning if styled properly. Following are a few best ways to style the Beni Ourain rugs.
Do you want to style your minimalistic furniture décor with a Beni Ourain rug!? You are thinking just about right. There are many neutral designs available in the market to enrich your styling. Polished and wooden surfaces would go long with beautiful undyed geometric rugs with no compromise on your minimalistic goal. Style your vanity table's base with the Moroccan rugs.
If your interior is decorated with boho-style furniture and you don't own a Beni Ourain rug, you are definitely missing something out! Beni Ourain rugs prove to be the finest base for color-popping furniture. Natural and urbane boho furniture styled with Azilal rugs. The bold colors and mesmerizing prints of Azilal rugs can outperform any style! These highly vibrant and animated printed rugs are good for your lounges as well. So, get your hands on a large size Azilal – Beni Ourain rug and enhance your lounge with the color pop!
Pastels and Beni Ourain rugs
Middle atlas – Beni Ourain rugs are perfect to be styled with your pastel home furniture. The light tones of the rugs soothe the eyes and caress the feet. If you want a rug for your minimalistic bathroom or your study room. Keeping it cozy and sophisticated middle atlas – Beni Ourain rugs are the best choice.
Get Fresh with the Moroccan rug!
Coming back home after a tiring day at work, you need to feel at ease. Settling down on the couch and resting your feet on the soft rug could bring you comfort. However, it is the eyes that need rest and refreshment. The moment you enter your home you need to have your Beni Ourain rugs at your first sight. With a touch of printed green plant pots and flower baskets over chic printed Beni Ourain rug, you are definitely up for a soothing retreat. Décor your table, light your favorite scented candle and you are good to go.
Wake your feet up to the rug
You would love to step on the soft, extravagantly thick, and undyed shag when you wake up. Therefore, bedrooms are also great for these rugs. If your bed is a small size, try styling your room with a large size Beni Ourain rug, but if your room has a king-size bed then you should go with a small size rug to décor your bedroom. Beni Ourain Berber rugs are no less than a beautiful morning treat for your feet.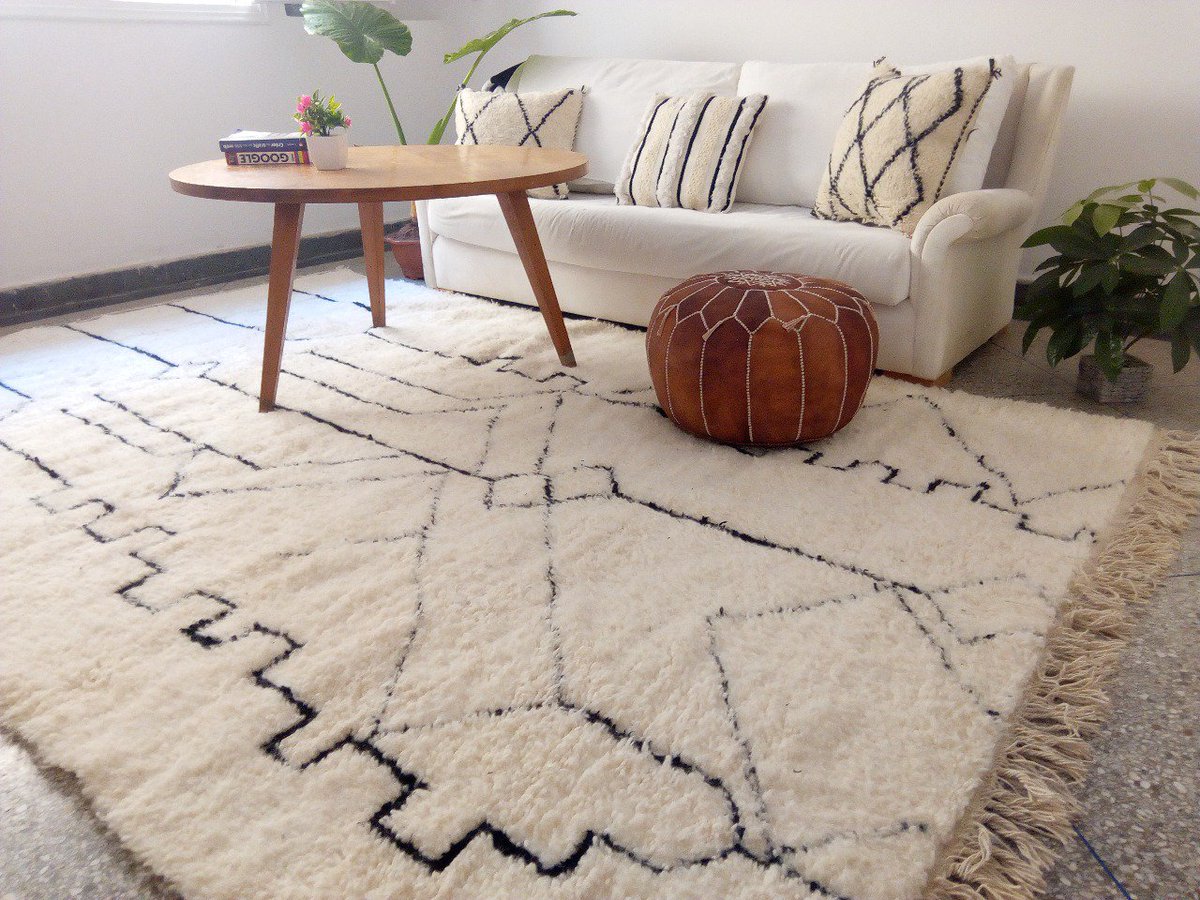 – Final Thoughts:
If you need quality Beni Ourain Rugs, you can get them from our website. We will make sure we provide you the quality you need.