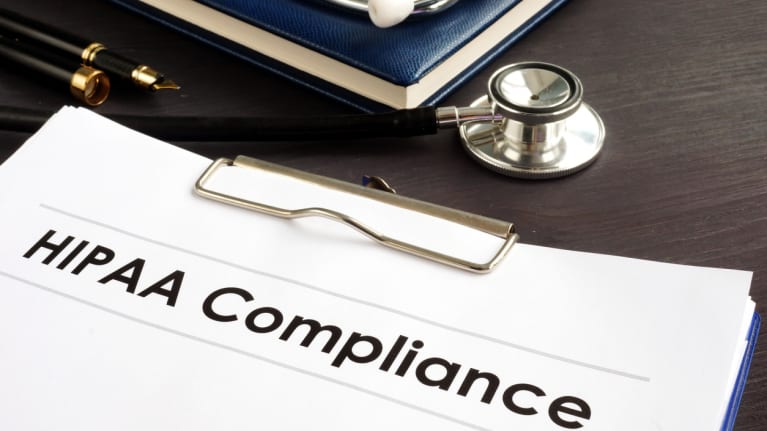 Statistics reported an account of at least 500 stolen health records per day in the year 2019 in America. Such breaches have occurred for decades. That is why American president Bill Clinton introduced "HIPAA Compliance". Health Insurance Portability And Accountability Act (HIPAA) is a law developed in 1996.
What is the primary intent of HIPAA? HIPAA contains rules that aim to secure insurance for people between their jobs. Yet, another essential function of HIPAA Compliance is to protect patients' data records and PHI (Personal Health Information). It is something inevitable for the businesses that pursue healthcare startup development today. 
HIPAA Compliances
HIPAA Compliance means that the healthcare organizations must implement the rules devised by the Health Insurance Portability and Accountability Act. These rules are implemented within businesses with the purpose to protect privacy of health information.
The Human and Health Service Department regulates this Act. However, OCR (Office for Civil Rights) enforces HIPAA Compliance.
Most of the entities associated with healthcare have shifted their modes to HIPAA Compliance .These include radiology, Electronic Health Records, CPOE systems etc. An efficient HIPAA Compliance rests on some key elements such as:
Applying the written policies
Formulating a compliance committee and officer
Carrying out the trainings
Internal and external auditing
Devising standard disciplinary signals
Appropriately responding to breaches
Taking out the corrective actions
Who needs HIPAA Compliance?
HIPAA Compliance regulates two types of institutions. The first is the "covered entities," and "Business Associates" are the second.
Covered entities
Covered entities are a group that includes organizations and people. They include institutions such as Health Care Providers, Health Plans, and Healthcare Clearinghouses. Individuals in covered entities cover the following:
Doctors/psychologists
Nursing homes
Health Insurance Companies
HMOs (Health Maintenance Organizations)
Government Programs related to health (Medicare, Medicaid, etc.)
Data converters (Standard Electronic Form)
Pharmacies
Clinics
Hospitals
Business Associates
Business Associates are contrary to the group of covered entities. They are the ones who provide service to covered entities via the use of "Personal Health Information" (PCI) disclosure. The Privacy rule lists criteria to declare someone as a business associate.
Business Associates differ from covered entities based on the function they serve. Their activities, however, are regulated by the Administrative Simplification Rules. Hence, they include functions such as
Payment activities
Administration
Billing
Provide Email Hosting
Provide Cloud storage
Accreditation
As a Third-party consultant
As an Attorney
BAA
BAA stands for "Business Associate Agreement," along with HIPAA Compliance. We can understand the concept of BAA by considering the following situation. Let's say someone is a CSP and wants to affiliate with a business. That business handles Personal Health Information(PCI). Here, he will need to be HIPAA Compliant and obliged to follow the respective rules of HIPAA.
Why need HIPAA Compliance?
HIPAA Compliance has become a need. HIPAA helps business associates gain trust of patients. Trust is all a business associate needs, therefore they have to be compliant with HIPAA. Privacy protection is another cause why healthcare organizations need HIPAA Compliance.
A Necessity
A noteworthy factor about HIPAA Compliance is that it is "non-voluntary." It is not
something to ignore by choice. No organization can avoid complying with HIPAA rules if it centers on contact with PHI. The stagnant feature of HIPAA recalls that it is a "LAW," not a typical incentive program.
Several organizations keep checking adherence to HIPAA rules to secure patients' privacy. One of them is the "HIPAA Breach Notification Rule."
Security
We can understand the vitality of HIPAA Compliance by watching its exact purpose. In a nutshell, HIPAA Compliance is all about protecting the privacy of health records. It also deals with refraining from any possible breach.
HIPAA is a law well-known for securing patients' health records and confidentiality. HIPAA ensures access to Personal Health Information (PHI). It permits the data to rest with the authorized individuals. There remains no chance of healthcare fraud.
HIPAA Compliance Rules
Such rules secure the HIPAA Compliant organizations in fulfilling the purpose. HIPAA Compliance rules are:
HIPAA Privacy Rule
HIPAA Security Rule
HIPAA Breach Notification Rule
HIPAA Omnibus Rule
HIPAA Privacy Rule
The first rule applies only to the covered entities. Covered entities are health providers. HIPAA Privacy law states that the covered entities set the criteria for Personal Health
Information access(PHI). This access lies in the closure and disclosure of the Patient's medical information.
HIPAA Security Rule
The HIPAA Security Rule sets medical records' protection and handling formats. This rule applies to both covered entities and Business Associates. The security rule of HIPAA includes three safeguards. These safeguards are:
Technical safeguards (protection of e-data)
Administrative safeguards (protection of PHI policies)
Physical Safeguards (control of facility/staff)
HIPAA Breach Notification Rule
The breach Notification rule relates to the response of business associates and covered entities. This response is toward PHI Breach. If there is a minor breach with the least number of people, it must notify HHS Breach within 60 days.
However, the HHS Secretary must get reports of significant breaches within two months. Authorities must also inform the affected patients of the violation.
HIPAA Omnibus Rule
The Omnibus Rule was not a part of HIPAA at the start. They added later on it, especially for the Business Associates. This rule had set the benchmark for Business Associate Agreements (BAAs).
Checklist for HIPAA Compliance
The following checklist provides the groundwork for an organization to maintain compliance.
Self-audits
Response/Remediation plan
Incident Leadership/Management
Employee training
Documentation
Business Associate Management
Self-audit
Keep records of all the activities after external and internal audits. In a nutshell, an audit helps to target search discovery and findings. It takes place to keep a track record of the ongoing compliance process with HIPAA.
HIPAA Violation
If HIPAA law is violated in any case, OCR files strict penalties. Moreover, it also launches corrective action plans. The penalties are in the form of tiers. These tiers are classified on the degree of violation's knowledge. Four years back from now, 4 tiers were specified. The financial penalty under these 4 tiers ranged from $117 to $1,754,698.
We are Owlab, a custom software development company. Originally founded in Ukraine, Owlab company has opened a development center in Estonia too. We are providing product design, software development, QA & testing services for a variety of industries, including healthcare. 
We are eager to announce that the Owlab company is ready to take on new projects. Contact us with your project requirements. We assure to deliver the best-in-class custom software solutions for your business.