Elegance, softness and warmness, three words describing the impressive beauty of this Moroccan Berber rug, such a classy article that adds multiple styles to your area and home decoration. This typical Moroccan rug black and white is a whole story written and narrated by the different patterns and motifs. the beni ourain rug is such a perfect combination of soft wool and the art of crafting.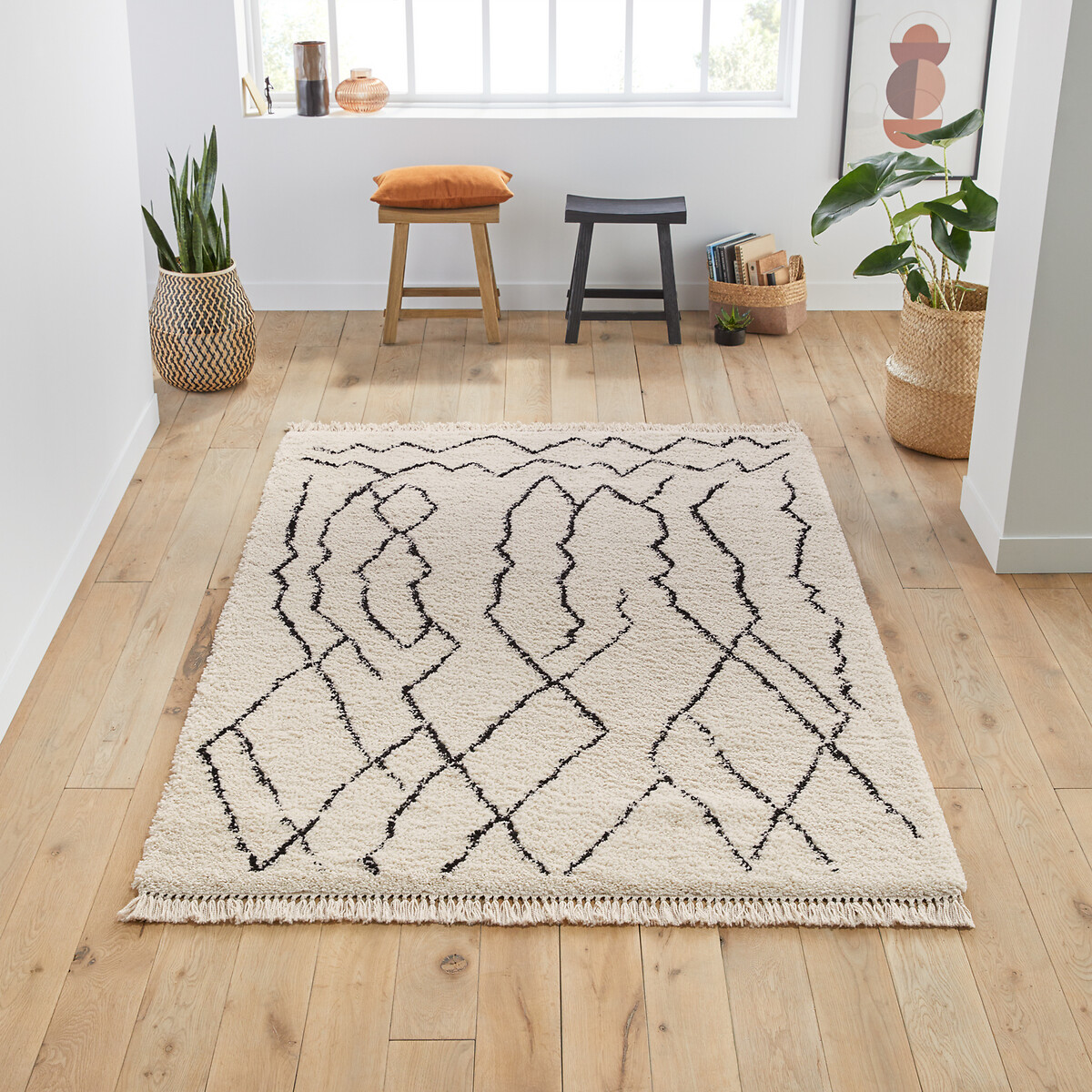 a sandy cream color adorned by different patterns that include the majestic touche and inspiration from the Berber lifestyle. It adds a cozy chill design and connects your home interior home with comfort and artisanal decoration
Wherever placed it's a source of peaceful and delightful Berber senses.
The Beni ourain rugs are woven by the tribal women of atlas regions, for many years the native population chose to communicate and express their daily life and belonging in crafting different symbolic patterns.
this ultimate Berber white rug is charmed by shaped diamonds and finesse black lines added to some symbols referred to the cultural ethnic practices.
Handwoven by 100% natural soft wool after a whole process consisted of sheering and cleaning it to procure the most perfect and the highest quality of the rug handsouned, twisted, and yarned then used to start styling the rug knotted and trimmed.
The art of crafting comes after all of this and practically takes much time and requires talent and precision.
This perfect kind of rug can fit any area in your home, wherever placed its contemporary look brings comfort. bedroom, living room, and even hallways will be manifested by an awakeness of Berber senses and tribal identity and will impress you by this ultimate power of changing the whole atmosphere of your area.
this rug has nowadays a stunning reputation that allowed it of being exposed and presented in many home decoration magazines that encourage many people to attend this new trend. Many customers all over the world recommend it and become members of the community of Beni ourain berber rugs lovers.

But more than this these rugs represent a great and powerful cultural heritage from centuries. many collectors find out that these canvas of Berber styles has strong meanings, each step on it become a way of immigration to the other lifestyle of native Moroccan people, standing in front of it can blow your imagination and travel your soul to a different area. that why it becomes reached by many customers that order them on special platforms on the internet, or much more of this while visiting Morocco and rugs shops that allow them to live a new kind of experiences.